It's a well-known fact that unhappy people tend to look outside more: outside the windows, outside themselves, whatever.

Perhaps they're looking for something to bring within; something to calm or satisfy or just relieve.

But I wouldn't know.

Ask the boy's father, if you really need an answer.

He's the doctor, not me.

But know this: the doctor is a difficult man to reach.

He's too busy looking to be found.
"Joseph come away from that window."
"Maestro, look at that man."

Joseph pointed out the window, three stories down.
I shrugged.

"Just another bum.

Seen one, seen them all.

Come."

I clapped my hands.

"We must prepare.

Some day, you'll be as good as your mother was, may God rest her soul."

The boy winced.

He still felt responsible.

How do you blame an infant, struggling to be born, for the death of its mother?

I don't know.

Ask the doctor.
"Have you ever watched him play?"
"No.

And I don't care to.

He's not paying me to watch.

Or listen, for that matter."

I walked to the window and looked outside.
"He plays with such feeling, Maestro, like he's seen the world; like he understands it."
"His technique is all wrong."
"But…"
"Joseph, your father will be angry."

The boy never wanted to disappoint his father.

Neither did I.

The doctor was a powerful man; an influential man.

He could send me scores of promising students.

He could also make them disappear overnight.
Had it not been for the thin thread of catgut that connected the kid and me, we never would have met.

He'd been watching me for four days straight, working up, I figured, the courage to approach me.

Probably takes a bit of balls to walk up to a homeless man in the middle of Central Park.
I used to vary my routine a bit depending on the day: Mondays I'd play at Penn Station.

Tuesdays, I'd set up around Times Square.

You get the idea.

But since the kid started watching me, I decided to stay put.

See what happened.
On Sunday morning, he shoved a sandwich and a cup of coffee at me.

"Here," he said.

"You've got to be hungry."
"Why would you think that?"
"Well…aren't you homeless?"
"You always make assumptions like that?"
"But…"

The kid gestured to my blanket.
"It is rather crisp, isn't it?

Comes with the heat."

I lifted the coffee in a sort of toast and took a sip.

This wasn't the watery shit that the shelter gave out.

Oh, no.

It was dark and swimming in sweetness and light.

"I thank you for the coffee.

And the sandwich."
"Teach me to play."

He lifted the violin case he carried in his left hand.
"Suspension case?"
He nodded.
"Hygrometer?"
Another nod.
"Humidifier?"


"Yeah."
"You've got that thing swaddled like a baby.

What's it worth?"
The kid narrowed his eyes; backed away.
I laughed.

"I'm not going to steal your fiddle."

I unwrapped the sandwich and took a bite.

"Salmon?"
"Yeah."
"I'm guessing you've had years of lessons already."
The kid looked at the sidewalk, littered with yesterday's news and discarded theater tickets.

"Maestro doesn't play the way you do.

He…"
"Is the man alive?"
The kid laughed.

"Not really."
I gestured.

"Play for me."
He was flawless in his execution.

But his heart.

It felt heavy and lifeless.

If felt hopeless.

It felt unloved.

"I can teach you nothing.

Life is your teacher.

Go.

Experience life.

Weave those experiences into your playing.

Then you will play the way you wish to."
A group of boys ran past, pointing and jeering and hooting.

I imagine we made an unusual sight: A homeless man and the child of a millionaire making music together.

The kid balled his hand in a tight first.
"Use that anger, Robert.

Put it in your playing.

Laughter.

Love.

Heartache.

You have to experience all of that and put it into your music.

Understand?"
He nodded.

And I believe he really did.

And so perhaps it is all my fault, the way they say.
"What are you doing, Joseph?"
"Weaving.

Colin does it.

It's a way…"
"Who is this Colin?"
The boy's eyes flicked to the window and snapped back.

"Just a friend."
"I see.

Tell your friend that you have an audition to Juilliard next month.

Perhaps after you get in, you can take up weaving."

I clapped.

"Begin again."
But his heart wasn't in it.
And neither was mine.

I headed outside; three stories down.

I walked across the street to Central Park.

"Colin?"
He assessed me with eyes of steel.

"Maestro?"

His voice contained the hint of a sneer.
"You're destroying his career."
"I'm teaching him how to live."
But I knew, as I said those words, that I was about to break his heart.

"My sister offered to take me in for awhile," I told him two days later.

"I'm leaving tomorrow morning."
He stared.

"Why?"
I laughed.

"I'm homeless, kid."
"But…"
"Winter's coming.

The old bones don't put up with the snow the way they used to."
"Where?"
"Boston. Full of musicians."
"How will you get there?"
"I have a bit of cash set by.

Enough for a train ticket."
"Let me go with you."
I shook my head.

"Your life is here."
The next morning, he showed up at Penn Station at quarter of six wearing a big backpack; the violin case bumping against his leg.
The maestro wasn't far behind.
The maestro had me arrested and thrown in jail.

Child endangerment.

And before you get all indignant, I ask you this: Who would you believe?

The maestro?

The kid?

Or me?
The jail is warm and dry.

I get to play my violin and receive three squares a day.

They shaved away my beard.

Once a week, a pretty girl trims my fingernails and toenails.

Scissors are dangerous, you know: I may try to stab myself with them.
The coffee is thick and hot.

I watch all the cable I want.

I'm even going after my master's degree.

I will pass my time behind bars in relative comfort.
The maestro lost all of his students in one day.

Mondays, he sets up at Penn Station.

Tuesday, he hangs out around Times Square.

Wednesdays, he's at Central Park, sitting on a filthy blanket, pushing an old CVS shopping cart down the sidewalk.
They say he's grown a beard.
But what of the kid?
I was hoping you wouldn't ask.
They say he crept around in the silence of the apartment, listening to his father dictate medical reports and checking on his portfolio.

The day after his admission to Julliard, he slipped away and disappeared.
Now, his father goes around nights, holding up flashlights to the faces of strangers sleeping in Central Park hoping to find the son he didn't know he loved until it was too late.
And I take comfort in the fact that from time to time, or so they say, you can hear some terrific violin playing in Boston.
Of course I can't say for certain.
But if you find the kid?
Tell the doctor.
I'm sure he'd like to know.
For the
Scriptic
prompt exchange this week,
Barb Black
gave me this prompt: Write a piece based on your favorite nursery rhyme.
I gave
Grace O'Malley
this prompt: You have three minutes to evacuate.
I did something a little different this week, working with two points of view, neither really the main character. Not sure if it worked out. I'm wondering if you can tell who is speaking in the first paragraph. And can you figure out the nursery rhyme?
This post was linked to
Yeah, Write.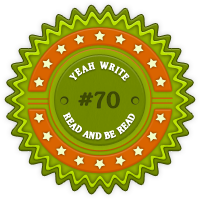 Labels: flash fiction, scriptic.org